Workspace Residency Dieu Donné 2019
I am well into my 2019 Workspace Residency at Dieu Donné, learning a lot about the joys and challenges of pulp paper and loving every minute of it. This residency will culminate in an exhibition with other workspace artists: Erin Rily, Ezra Tessler, and Duy Hoàng, to be held in the Dieu Donné gallery space in the Brooklyn Navy Yards, opening December 11.

Above: Studio shot of Pandora's Box
Pigmented cotton and abaca pulp, 14 inches x 14 feet, 2019
---
In the Heart's Deep Core, NYU Langone Art Gallery
In the Deep Heart's Core
This exhibition features artworks that convey how our emotions and feelings are so closely linked to our heart and thus may influence its health, for better or worse. Artists include: Andrea Deszö, Dan Funderburgh, Cal Lane, André Lemos Pinto, Gianni Lillo, Cara Lynch, Andrea Mastrovito, Raymond Pettibon, Antonio Riello, Kako Ueda, and Tricia Wright.



Date:

January 24 to April 26, 2019
---
Fall 2018, Pen + Brush, NYC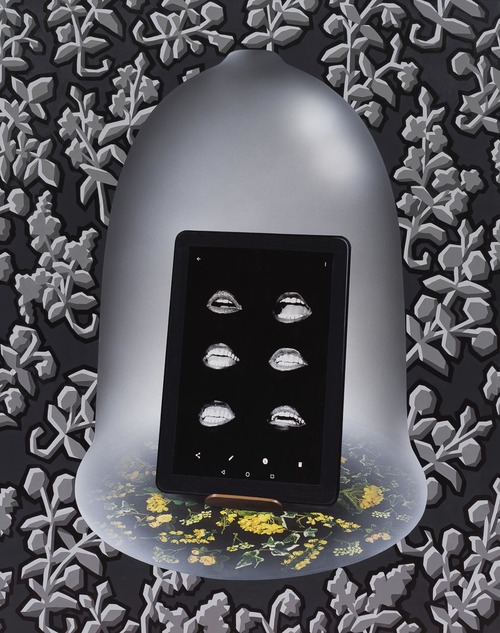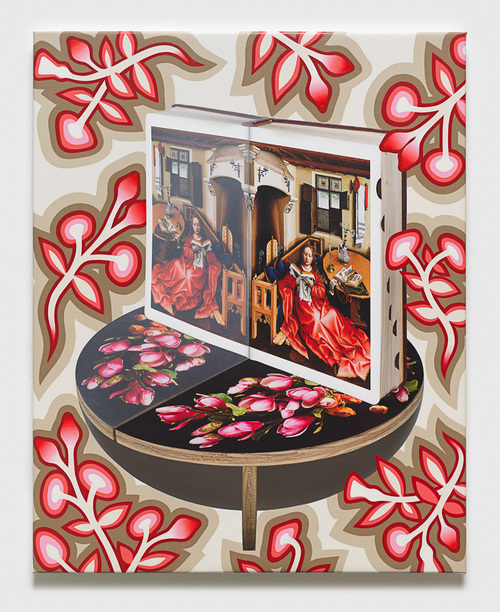 (Top) Walled Garden; Voice. Painting with stills from Not I (Samuel Beckett, performance filmed in 1973), 2018
(Above) Pizan's Garden. Altered Annunciation with detail of The Merode Altarpiece (Workshop of Robert Campin, c.1427-32), 2018.

Press Release excerpts:
Walled Garden

takes its name from the medieval genre of the enclosed garden (

hortus conclusus), which denotes a space set apart, specifically a feminine space. Wright uses the space inside a glass bell jar to present incomplete views of women; the photographed flowers inside the bell jar and the painted flowers outside mimic the millefleur device used in medieval tapestries to indicate a symbolic garden. In a process that combines painting with photographic image Wright weaves a pictorial space that is neither purely one nor the other, and like the unreliable narrator invites questions about the veracity of what is being depicted.

Wright's more recent series, Pizan's Garden

, is rooted in a literary text by the medieval scholar Christine de Pizan, whose proto-feminist work,

The Book of the City of Ladies

, was published in 1405. Pizan imagined an allegorical walled city, built, populated, and governed by women and guided by three allegorical female figures: Reason, Rectitude, and Justice. Wright imagines a garden in Pizan's city, a similarly allegorical space that reflects on agency and self-determination. Again combining painting with photography, each work in the series cites an Old Master annunciation painting, which Wright has altered, bisecting the original composition and replacing the figure of the Archangel Gabriel with a mirrored image of Mary, shifting the balance of power to create a very different kind of encounter.